The ICC opens its doors on The Hague's Just Peace Open Day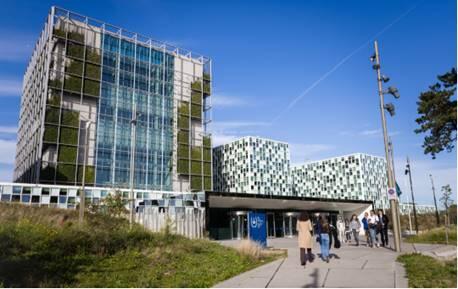 Visitors arriving at the ICC headquarters in The Hague (Netherlands), on The Hague's Just Peace Open Day on Sunday, 16 October 2022 © ICC-CPI
More than 850 people visited the International Criminal Court (ICC) on Sunday, 16 October 2022, when it opened its headquarters for The Hague's Just Peace Open Day. Women, men and children of different ages and nationalities, including Dutch nationals and members of the international community based in The Hague, had the opportunity to learn more about the Court and Trust Fund for Victims' work and be inspired to help build a more just world.
Highlights this year included an interactive session with staff in the main ICC Courtroom, viewing of several artworks, insightful information on investigations and cases, as well as the work of the Trust Fund for Victims, an area featuring jobs, internships and visiting professional positions, and activities for children and youth.
Just Peace Open Day is part of The Hague's Just Peace Month from September 21 (International Day of Peace) and October 24 (International UN Day). The Just Peace Month programme is a collaboration between The Hague Humanity Hub and the City of The Hague – the Court's host city – along with other contributing organisations.
Each year, Open Day gives the public the opportunity to learn more about the functioning and aims of the various international institutions and non-governmental organisations based in the city. The Hague, long known as the City of Peace and Justice, has been hosting the ICC since 2002. The city and its surrounding area are now home to over 160 international organisations.
The ICC is the first permanent, treaty-based, international criminal court established to help end impunity for the perpetrators of the most serious crimes of concern to the international community, namely war crimes, crimes against humanity, genocide and the crime of aggression.
For further information, please contact Fadi El Abdallah, Spokesperson and Head of Public Affairs Unit, International Criminal Courtby telephone at: +31 (0)70 515-9152 or +31 (0)6 46448938 or by e-mail at:
fadi.el-abdallah@icc-cpi.int
.
You can also follow the Court's activities on Twitter, Facebook, Tumblr, YouTube, Instagram and Flickr
---
Communiqué de presse : 17.10.2022
La CPI ouvre ses portes à l'occasion de la journée « Just Peace » de La Haye
Des visiteurs arrivent au siège de la CPI à La Haye (Pays-Bas), lors de la journée portes ouvertes du dimanche 16 octobre 2022 © ICC-CPI
Plus de 850 personnes ont visité la Cour pénale internationale (CPI) le dimanche 16 octobre 2022, jour où elle a ouvert ses portes dans le cadre de la Journée portes ouvertes dans le contexte du programme « Just Peace » de La Haye. Des femmes, hommes, et enfants de tous âges et de toutes nationalités, notamment des néerlandais et des membres de la communauté internationale de La Haye, ont eu l'occasion d'en apprendre davantage sur le travail de la CPI et du Fonds au profit des victimes et d'être inspirés pour aider à construire un monde plus juste.
Les points forts de cette année comprenaient une session interactive avec le personnel de la CPI dans la salle d'audience principale de la CPI, l'exposition de plusieurs œuvres d'art, des informations utiles sur les enquêtes et les affaires en cours, ainsi que sur le travail du Fonds au profit des victimes, un espace sur les emplois, stages et postes de professionnels invités et des activités pour les enfants et les plus jeunes.
La Journée portes ouvertes fait partie du mois « Just Peace » de La Haye du 21 septembre (Journée internationale de la paix) au 24 octobre (Journée internationale des Nations Unies). Le programme du mois « Just Peace » est une collaboration entre The Hague Humanity Hub et la ville de La Haye – la ville hôte de la Cour – ainsi que d'autres organisations contributrices.
Chaque année, la Journée portes ouvertes donne l'occasion au public de mieux connaître le fonctionnement et les buts des institutions internationales et non gouvernementales basées dans cette ville. La Haye, connue depuis longtemps comme la Cité de la Paix et de la Justice, accueille le siège de la CPI depuis 2002. La ville et ses environs abritent aujourd'hui plus de 160 organisations internationales.
La CPI est la première cour pénale internationale permanente créée en vertu d'un traité pour mettre fin à l'impunité des auteurs des crimes les plus graves touchant la communauté internationale, à savoir les crimes de guerre, les crimes contre l'humanité, le génocide, et le crime d'agression.
---
Pour toute information complémentaire, veuillez contacter Fadi El Abdallah, Porte-parole et Chef de l'Unité des affaires publiques, Cour pénale internationale, au +31 (0)70 515-9152 ou +31 (0)6 46448938 ou à l'adresse fadi.el-abdallah@icc-cpi.int.
Les activités de la CPI peuvent également être suivies sur Twitter, Facebook, Tumblr, YouTube, Instagram et Flickr